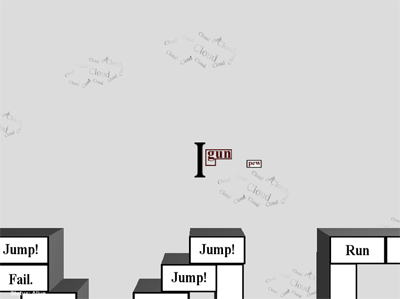 My first
Global Game Jam
review is on
RunRunRunJump
. A 2D/3D hybrid, text based platformer game built in Unity. The development team was located at the
Singapore-MIT GAMBIT Game Lab
in Cambridge, Mass. I believe deception and abstraction were the two themes chosen for this game from the officially prescribed by the IDGA Global Game Jam themes for the region.
The team consisted of:
Owen Macindoe - Programming (and end game screen!)

Scott Macmillan - Concept, Level Design, Art

Daniel Perry - Sound and Music

Alex Schwartz - Programming, Art

Stephie Wu - Programming


I know Scott and Alex from Boston Indies and the IGDA Boston Post Mortem, so I enjoyed communicating with them through their development process via twitter and streaming video. It was their game I played first.

Because the game was developed in Unity, it is playable on the Mac, PC and in web browsers with the Unity plug-in. Unity is a fantastic choice and powerful tool for a game jam. If the team chooses to keep on developing RunRunRunJump they could use Unity to publish on Wii and iPhone with additional licensing.
When the game began the first thing I noticed was a strip of blocks with a single word in each box. A hopping icon with the word "shoot" written on it bounces across the screen. The first four text blocks contain individual words that compose the title of the game. The remaining blocks each say "start".
The music is composed of vocals like a deep base voice singing the word "base", a chorus singing"chorus" and a melodious "melody". Some drums kick in later. I think this works very well. I found myself sing along.
One must read the text on the 3D objects to know what to do. Click on the word "Start" on a 2D block and the game begins. The 2D intro menu becomes 2D /3D. The player is a capital "I " with an abstract 2D gun that says "gun". Clouds in the sky are clusters of the text "clouds" in the distance. The text blocks are now instructing you to run.
Using the arrow keys to navigate is simple enough. Pressing the space bar to shoot 3D bullets labeled with the word "pew" accompanied by the audio of a spoken "pew" streaks across the screen. All objects dynamically describe what is is they do and/or what you should do to them. At least on the first level.
The second and final level is where the deception really kicks in forcing the player to "think". I won't spoil the fun.
The clean grayscale graphics, 2D/3D aesthetic, great audio, and deceptive game play combined with the Unity physics engine make for surprising fun. I would love to see this game expanded with more levels. RunRunRunJump on my iPhone too some day would rock (hint, hint).
Congratulations RunRunRunJump team! You made 48 hours of awesome.